All Entries Tagged With: "proclaimers"
Podcast: Play in new window | Download (Duration: 51:25 — 47.1MB)
Subscribe: iTunes | Android | RSS
Podcast (feed-2): Play in new window | Download (Duration: 53:00 — 24.3MB)
Subscribe: iTunes | Android | RSS
All technical difficulties have been rectified; the podcast is back in service. Thank you for your patience.
The podcast version of our March 27, 2009 Revenge of the 80s Radio show is up and available at the bottom of this post.

This week's show features a track from
Seona Dancing
, the UK Alt-Pop duo that showcased the vocal prowess of
Ricky Gervais
, creator of the international hit TV series,
The Office
. The band only lasted for around a year, but was better than given credit for and might have become more prominent had they been developed a bit better. While new wave fans can listen to the music and argue that point, the breakup allowed Gervais to learn his true calling as a comic genius.
We also showcased a 2008 track from Australian legends
Nick Cave and the Bad Seeds
and and deeper cuts from
The Proclaimers, Kim Wilde
and
Wang Chung
.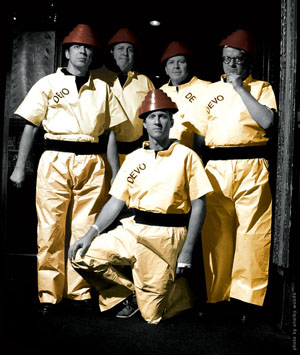 Officials at the annual South by Southwest Music Festival, which takes place March 13-22 in Austin, added Devo as a headliner to the event.
The festival is one of the world's biggest music events and features several music genres and acts form all over the world.
Devo is not the only band from the 80s taking part in SXSW, Primal Scream and The Proclaimers will be there as well.
People wishing to attend the SXSW festivities can find ticket information on the event's official website.