Tonight's Show: Featuring our Interview with Rose MacDowall
Written by admin on July 4, 2008
Podcast: Play in new window | Download (0.8KB)
Subscribe: Google Podcasts | RSS
Click here to listen to Revenge of the 80s Radio LIVE 7-0pm Ea>stern US time
Tonight's show will feature a re-broadcast of our interview with Rose MacDowall, formerly of Strawberry Switchblade. Rose talks about her music, her life and her eclectic career.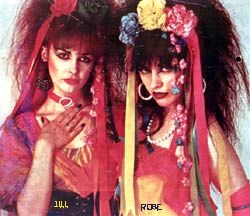 [amazonify]B000BZPS0Q[/amazonify]
Rose is currently working on a new album, but over the past many years she had helped form three other bands (aside from Strawberry Switchblade), is a fixture as a solo artist in the UK independent music scene and has worked with several other bands on various projects. As for Strawberry Switchblade, Rose discusses the lightning-quick success she and bandmate Jill Bryson had and the untimely demise of the duo shortly after their run on the UK charts. We also talk abuot the meanings behind some of her songs and how her hard life as a child and teenager has been a huge inspiration for her songwriting.
Rose MacDowall has one of the most beautiful voices in the music business and still does live shows these days in the U.K. We at Revenge of the 80s would like to see her here in New York sometime soon.
During the show, we also played tracks from several artists including INXS, Madness, Mental As Anything and Wall of Voodoo.
Revenge of the 80s Radio airs live every Friday night 7-9pm on Q99.1FM in the Hudson Valley, NY and on www.revengeofthe80sradio.com; Wednesdays 12noon Melbourne, Australia time on 87.6FM "Radio 80s" in Korumburra, AUS and our podcast will be available on Saturday.
---
Reader's opinions
---