REVIEW: Stan Ridgway and Pietra Wexstun: Silly Songs For Kids, Vol. 1
Written by admin on October 23, 2008
One of the world's most original and creative musical couples recently introduced their newest album, and it is aimed at listeners who think Wall of Voodoo is something that Hecate's Angels once used to decorate a Drywall Project. While one never knows what to expect from longtime musical partners Stan Ridgway and Peitra Wexstun, Silly Songs For Kids: Volume 1 may not have come from the proverbial "left field" as one might suppose; it was relatively recently that the vocalist/songwriter/multi-instrumentalist extraordinaire released a musically superb standards album: The Way I Feel Today (Crooning the Classics). Should children be deprived of what other generations are enjoying?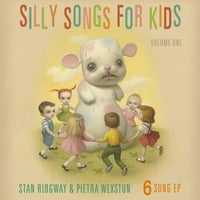 Established artists who sing tunes aimed at the younger set tend to mellow down their music, losing the very elements that endeared them to fans in the first place. The results of such works are inevitably hollow and offer the impression that the performer(s) in question are being sung down to. This kind of music is invariably accompanied by what it known as the "Disney keyboard sound" — the mellow safe electronic piano backup that we children of the 1980s had become all too familiar with thanks to songs like "Somewhere Out There" from the movie An American Tail, the vast majority of "boy-band ballads" and loads of Celine Dion songs. That kind of sound is not found on Silly Songs For Kids, Volume 1.

Ridgway and Wexstun
take the approach that music directed to children can also be enjoyed and sung along to by adults while still charming the young ones.[amazonify]B001IY6BB4[/amazonify] The duo lead off the CD with the impressively bluegrass/jug band reminiscent "Bring It On In the House." Ridgway plucks away at the banjo as he sings the happy tune about taking a car ride to someone's house. He and the rest of the band seem to be genuinely enjoying themselves even though they might have dropped their cake twice according to the lyrics. Ridgway, Wexstun and the rest of the band, which includes Drywall partner Rick King (slide guitar, bass), Ralph Carney (drums) and the zany "Teak" Lazar (credited: sandpaper, complaints), treat youngsters to high quality but kid-friendly music that takes a cue from recent trends in family movies that purposely appeal to both adults and children alike.
Ridgway and Wexstum switch vocal parts in the quirky "Sing Along Song," which could also be titled: 'Fun With the Voice Synth and Ducky Impersonations," "Mountain Top" and the strange-but-whimsical "Jenny's Pixie Garden." The latter two might inadvertently be interesting endorsements for breathing helium, but truly are geared to appeal to a child's sense of wonder and fantasy. For the third track, "Spider's Web," Ridgway employs an eerie tone over a prominent bass, piano and muted trumpet arrangement reminiscent to 1920s jazz. After five tracks of fun on the six-song EP, Ridgway closes with the calming lullaby "Mr. Moon Man," an ode to the Earth's natural satellite on a cloudy evening The songs may be silly, but not campy and patronizing as much of today's music for kids womds up becoming.
Silly Songs For Kids, Volume 1
is ripe with the classic Ridgway sound and storytelling that his fans have coem to know as well as splendid musicianhip all around from him, Wextun and the band.
One should not be put off from listening to this album by its title. Though the CD is really aimed at children, this well-performed EP should ideally be considered more a masterpiece built for the next generation of Stan Ridgway fans. While parents would do well to have
Silly Songs
in their library, those without small children around will also enjoy this enchantful offering from Ridgway and Wexstum.
MP3 Downloads of Silly Songs For Kids, Volume 1 can be purchased directly from Amazon.com.
---
Reader's opinions
---