Friday's Guest: Josie Cotton
Written by admin on August 25, 2009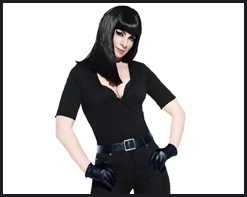 This is going to be a fun show: Josie Cotton is our guest on Revenge of the 80s Radio on Friday. Many remember her as the prom band singer in the Valley Girl movie and from her international hit song "Johnny, Are You Queer?" While those were huge landmarks in new wave history, there is much more to this talented singer and songwriter than those memories.
Josie came to LA from Texas to be a songwriter and wound up performing "Johnny" after being offered the chance to record the single by its writer. The song launched her fame but may have been an early curse as well. We talk about that, Josie's latest work and a new CD she is working on during our conversation.
Over the past few years, she released two fabulous CDs: Invasion of the B-Girls and Movie Disaster Music, each based on an original concept: finding and recording good theme songs from B-movies. Josie and I share a love for low-budget cinema, which made for an interesting look at the genre within our discussion, which will play during the second hour of Friday night's show.
---
Reader's opinions
---