This Week's Guest (5/7): Paul Collins
Written by admin on May 3, 2010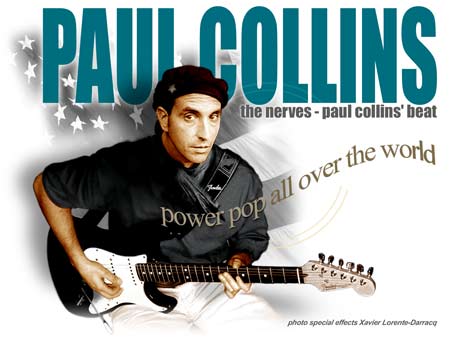 This week on Revenge of the 80s, Paul Collins, founder of The Beat and Co-Founder of The Nerves will be our guest. Paul is still touring and will soon release a new album: The King of Power Pop.
Collins is a true alt-rock icon who is considered the foremost authority on Power Pop, its history and its future. He is also the Commander of The Beat Army, a fun social network dedicated to the preservation of the music on which Collins and former Nerves band-mate Peter Case led the charge. Through The Beat Army, Collins exposes and promotes bands and radio shows that play the power-pop brand of alternative rock.
Paul Collins and Plimsouls leader Peter Care started up The Nerves with Jack Lee. They were a unique trio in that they switched vocals and each wrote lyrics and music. The band's most successful track was "Hanging on the Telephone," which reached the Top 40 when it was covered by Blondie. While the band did not last very long, there is nary a mosh pit around whose origins did not come from either Nerves music or early punk.
As Case went on to form the Plimsouls, Collins flourished as a musician with critically-acclaimed albums under the name The Beat. It was then when he developed a rabid cult following that continues with him today.
The Beat earned plenty of airplay on MTV and College radio while excelling within the LA new wave scene of the late 70s/early 80s. Today, Collins masters the art of driving guitar rhythms and pounding persistent percussion as his music lives on to a new generation of fans. His upcoming album also includes several legendary guests including Revenge of the 80s favorite Nikki Corvette.
Collins has several concerts planned across the U.S. this year as he brings along several up-and-coming alt-power rockers to the stage. Even without titling his coming CS as such, he will reign throughout music history and future as the true King of Power Pop.
---
Reader's opinions
---