This Week's Show (10/17) Will Feature An Interview With Actor Eddie Deezen
Written by admin on October 14, 2008
Many fans of fine cinema may have seen this man and said: "Hey, I know that guy!"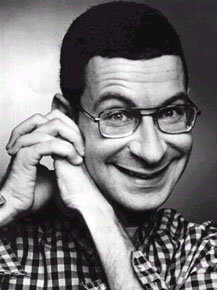 He is
Eddie Deezen
, best known to many as "Menlo Schwartzer" from
Surf II
, "Wesley" from
Midnight Madness
, "Eddie Lipschitz" from
The Whoopie Boys
, "Eugene" from
Grease
, "Don Tony" from
Mob Boss
or that guy in the
casino
room on
Zapped
with the t-shirt that read "God's Gift to Women." Eddie Deezen will be my guest on this week's Revenge of the 80s Radio Show.
Deezen had appeared in several movies and television shows since 1978 when he got his first role in the blockbuster movie Grease. After the 80s, he became more prominently known for his voice in a long list of commercials, cartoons and animated movies. Younger fans recognize him from the movie Polar Express and as "Mandark" in Dexter's Laboratory.
During the interview, we will discuss several topics, including:
Deezen's early days as a stand up comedian and why he left that line of work.
How he got the role of "Eugene" in Grease
Eddie's thoughts on some of his classic characters
Some interesting behind-the-scenes stories about his first movie as a leading man: Mob Boss, where he played opposite Morgan Fairchild.
While Deezen is often credited with creating the archetype "nerd" character prominent throughout 80s movies and became a star that way, he actually gives that honor to Charles Martin Smith, who played "Toad" in American Graffiti.[amazonify]B0000DZ3GQ[/amazonify] It was, however, Deezen's portrayal of that persona that was copied (less successfully) by other actors over the following years.
The conversation with Deezen was both interesting and fun. He is an extremely humble and genuinely nice fellow who appreciates his success, showing great respect for his co-workers and mentors over the years.
The interview will lead off the second hour of the upcoming Revenge of the 80s Radio Show, which will air for the first time live 9-11pm Eastern Time on Friday; the podcast will be available on Saturday morning. Radio 80s in Korumburra, Australia will broadcast the show on Wednesday at noon Melbourne Time.
---
Reader's opinions
---