All Entries Tagged With: "funk"
Photos by Elizabeth Lynch
Dave Wakeling's English Beat rolled into the Mexicali Blues Cafe in Teaneck, New Jersey on November 22nd as part of his current North American Tour. After our recent interview with Wakeling on Revenge of the 80s Radio, we took the trip to see the last of his tri-state area stops in the current concert series.
It was 30 years ago on the date of this post that a Chicago White Sox promotion became a controversial part of music history and a landmark in time.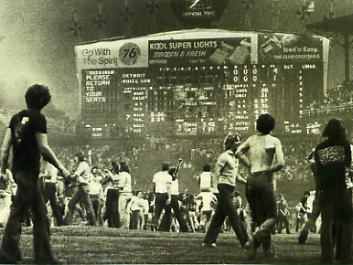 The Chicago White Sox wanted to bring more people into its Comiskey Park home and teamed up with area DJ Steve Dahl, who is given credit for the term "Disco Sucks" which adorned bumper stickers and t-shirts all over America at the time, to dream up the idea of "Disco Demolition Night."