New Music from Nikki Corvette's New Band Formed With Amy Gore — "Gorevette"
Written by admin on November 13, 2008
The leader of the 80s girl band movement has teamed op with one of another top Detroit rocker to form a new superband: Gorevette. Nikki Corvette, known best as the leader of Nikki and the Corvettes, and Amy Gore, who started the Gore Gore Girls are now together with Bassist Lianna Castillo and drummer Al King to form a band reminiscent of the classic Detroit sound that Nikki, The Stooges, MC5 and The Ramrods introduced to the rest of the nation in the late 70s and early 80s — a sound that has regained its popularity in recent years.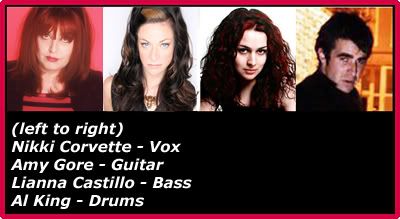 At this time, three Gorevette tracks are available on the band's MySpace page and they do not disappoint fans of either of the founders' former bands. First, "Fake It" does not fake it. Gore's hard, driving guitar and Castillo's firm bass set the tone for what one can expect from the band. The two played together in the Gore Gore Girls and display the great musical chemistry needed between string-mates. King, the lone male, is a quick and skilled drummer.
While "Fake It" has the feel of the ladies' more modern work, "Lustfully Yours" and "Let's Rock" bring back the 1979-81 feel of
Nikki and the Corvettes
with Nikki's "vox" style of that time sparking memories of "He's a Mover," "I Wanna Be Your Girlfriend" and her many other classics. She was one of the first to show that women do not have to sing wimpy "why did he leave me?" songs and inspired several great female rockers in the process. The band blends so well it would seem they were destined to play together at some point in time. This observance concurs with a group history post on
Gorevette's MySpace page
:
When Robert Matheu of Creem Magazine introduced the two at Spaceland in Los Angeles in 2004, stars aligned. Corvette and Gore quickly became kindred spirits and started writing songs together once Corvette moved from LA to Detroit in 2005. What resulted becomes part of Detroit's new R'n'R era
Gorevette
is essentially a combination of the styles of
Nikki and the Corvettes
and the
Gore Gore Girls
, merging the classic hard-but-fun sound of Detroit's 70s and 80s rock scene with the faster, heavier Motor City rock sound of today. The combination of talent here may very well be ushering in a new chapter in rock history.
Also, please check out and become a part of our Revenge of the 80s Radio Facebook Fan Page.
---
Reader's opinions
---