The Podcast for our 1/8 Show is Up – with Two Previously Unreleased Tracks from Kid Creole
Written by admin on January 10, 2010
Podcast: Play in new window | Download (Duration: 53:38 — 49.1MB)
Subscribe: Google Podcasts | RSS
Podcast (feed-2): Play in new window | Download (Duration: 53:22 — 48.9MB)
Subscribe: Google Podcasts | RSS
The Podcast for our 1/8/10 Revenge of the 80s Radio show is up and available at the end of this post. We wanted to kick off 2010 with something different, so we celebrated with two previously unreleased songs from August Darnell, better known as Kid Creole.
In the summer of 2009, Darnell contacted Coconuts Co-Founder Adriana Kaegi, asking her to fine-tune several tracks that he had in his studio, but never released and for her help in bringing them to fans of the band. These cuts are now available to fans on Darnell's Reverb Nation web page; we feature one of them in each hour of this week's Revenge of the 80s. In hour 1, we play "Are You Bad Enough," a feisty reggae-ish track with a generous serving of the classic Kid Creole attitude. Hour 2 is the soulful, yet funky "Yesterday's Child." We are happy to be the first radio program to air any of Darnell's previously unreleased material and we plan to feature more in the coming months.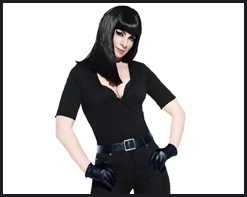 We also played classic alternative music from Voice of the Beehive, The Alarm, Jason and the Scorchers, The Belle Stars, U2 and INXS as well as "Kung Fu Girl," a piece from Josie Cotton's 2006 CD, Movie Disaster Music.
---
Reader's opinions
---